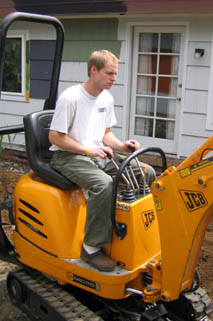 While growing up in New Orleans, I spent my weekends in my dad's shop, helping him build furniture and cabinets.  From my father, and my grandfather and great-grandfather before him, building and woodworking has been in my blood.

I attended the University of Washington, receiving undergraduate and master's degrees in architecture.  During my tenure at the U, I refined my design skills, and developed a focus on detailing and craftsmanship.  Through the strong furniture design studios and deisgn/build studios, I was able to strengthen these skills, and put them to use in real-world applications.

After graduating in 2001, I spent four years apprenticing under a local cabinetmaker and furniture builder, further developing both my design skills and craftsmanship. 

I started my business under the name "C2 Design Build" in 2003, and restructured into seven hills design in 2006.  I always strive for both quality design and impeccible craftsmanship, whether I'm building a bed-side table or a 300 square foot addition.